Dr. Abraham Benavides, MD
Your Cannabis Coach
Get Expert Help for All Your Cannabis Questions
Meet with Dr. Benavides, an internationally recognized and experienced cannabis researcher, to get all the information you need about cannabis and terpene science.

Abe can help you choose the right products, discuss dosing strategies, and develop personalized cannabis action plans.

──────────────────

El Dr. Benavides es un escritor e investigador reconocido a nivel mundial, y también habla español.

Está disponible internacionalmente por consultas informativas sobre el cannabis, cáñamo, y su salud.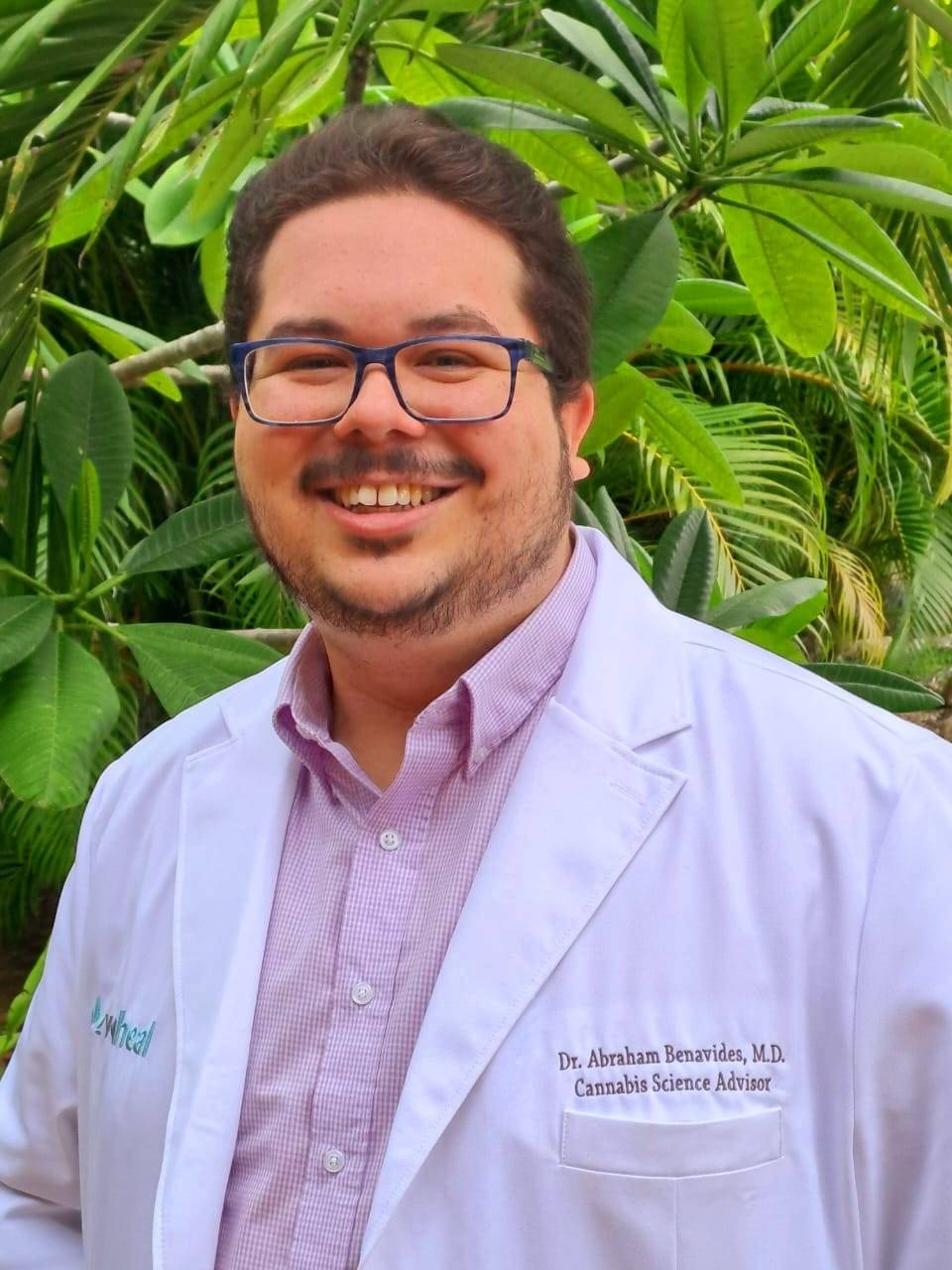 Cannabis Health and Wellness Coaching
Get personalized cannabis coaching from Dr. Abe to:
Answer cannabis-related questions
Discuss optimal wellness dosing and product choice
Give patient education about cannabis and terpene science
Create a health-conscious cannabis action plan
Expert Medical Cannabis Writing
Expert and original writing to provide current, evidence-based cannabis content for:
Cannabis Blogs
Scientific articles
e-Books 
Training Course Modules
Peer-reviewed Publications
Social media
Trust Abe for reliable, educational, and engaging writing services.
Evidence-Based Medical Editing and Reviewing
Get up-to-date literature review, editing, and fact-checking services for ensuring accurate and high-quality cannabis content on your website.
Global Cannabis Consulting
Confidently display your organization on the world stage alongside Dr. Benavides as he speaks at international conferences around the world.
Abe can promote your group to a global audience, fluently in English and Spanish.
Partner with Dr. Abe and your brand's affiliate program to generate sales by sharing your unique referral link and promo codes.
Share your link with your followers, patients, or anyone who could benefit from his coaching and your quality products.
Dr. Abe is currently partnered with various reputable CBD companies, use the following promo codes:
"DRABE" for 25% off all
Tanasi CBD
products
"DRABE" for 20% all
Healer CBD
products
"DRB" for 10% off all
Myriam's Hope Hemp
products
"ABMD" for 10% off all
Rare Cannabinoid Co
Products
Get featured on Dr. Abe's Twitter account and gain more followers.

Share your website, products, or services with his engaged audience of over 3,000 Twitter followers.
Clients love working with Abe, just read what they have to say!
Since I met Abe in medical school, he's always been serious and passionate about medical cannabis education for patients and providers. Dr. Abe is on the vanguard of cannabis health, and his pioneering spirit brings experience and cannabis knowledge ahead of the vast majority of today's doctors and healthcare professionals. We are honored to have Dr. Abe as a colleague at the GW Center for Integrative Medicine to provide exceptional and trustworthy cannabis coaching for our patients.
Dr. Mikhail Kogan, MD
Medical Director, GW Center for Integrative Medicine,
Associate Professor of Medicine, George Washington University,
Founder and Member of the Board, AIM Health Institute
Dr. Benavides has provided clear, detailed, personalized recommendations for my patients on the use of cannabinoids of all varieties. He is wonderful to work with, has a great bedside manner and is a true expert in the field. I rely on him for up-to-date knowledge on the clinical use of cannabinoids, especially risks, cautions and contraindications, but also dosing and combinations of different products. He has helped patients with headaches, neuropathy pain, loss of appetite and weight loss, body pain, all varieties of inflammation, and more. I cannot recommend him more highly.
Dr. Deirdre Orceyre, ND, MSOM, L.Ac.
Naturopathic and Chinese Medicine
Naturopathic Medical Director
GW Center for Integrative Medicine
Dr. Abe's contribution as a medical reviewer and author has been invaluable to growing CBD Oracle's readership. Aside from being super knowledgeable about the medical cannabis world, Abe is amazing to work with as a person.
Houman Shahi
Editorial Director
CBD Oracle
Dr. Benavides has been an invaluable asset in ensuring our content meets the highest quality standards. Abe blends his unique medical expertise with a strong work ethic, making our collaborations seamless and productive. I'd highly recommend working with him.
Ahmed Mir
Editor and Head of Marketing
Nature and Bloom
Dr. Abe has been a pleasure to work with. He's not only highly knowledgeable about CBD and cannabis but also professional and easy-going. He has a keen eye for detail and brought much-needed medical expertise through his work as a medical reviewer.
Gleb Oleinik
Founder & Chief Editor
CBD Thinker
We highly recommend Dr. Abe, he's a skilled cannabis tailor! His personalized guidance allows patients to easily choose from our wide selection of cannabinoids and terpenes to best suit their needs. We confidently send our patients to Dr. Abe so they can make the most out of the full spectrum of cannabinoids and customization options we have to offer.
Diana Pena
Co-founder
Myriam's Hope Hemp
Dr. Benavides not only exceeds my expectations of informing me, but he also had the patience to listen through my recent convoluted medical history. And he understood completely.
A.F.
Cannacoaching Patient
I really appreciate having Dr. Benavides as a trustworthy and knowledgeable source of information about medical cannabis use. He helped me figure out the best treatment approach for my needs.
E.A.
Cannacoaching Patient
I had a very informative and pleasant consultation with Dr. Abe who helped me understand my cannabis options.
S.D.
Cannacoaching Patient